A matter of taste
Experience exceptional dining in Doha.
The St. Regis Doha's redefines fine-dining with its remarkable restaurants and lounges in Doha, introducing a proud heritage and culture of excellence, along with an exciting new world of taste and a vision that draws upon flavors of the fabric of Doha itself. For instance, the classic St. Regis Club Sandwich is made with Middle Eastern herbs and spices from Doha's spice souq.
Astor Grill
Astor Grill is a modern steakhouse and grill offering a relaxed dining experience. The open-kitchen restaurant serves the best cuts of meat and fish paired with hearty rustic sides, delivering a lively dining experience.
Gordon Ramsay Mediterranean
Explore Gordon Ramsay Mediterranean, a fresh and modern dining experience influenced by the tastes of Sardinia, South of France and Spain. The menu combines seasonal ingredients and flavors for the lovers of inspired, authentic cuisine.
Opal by Gordon Ramsay
Opal offers everything that defines the Gordon Ramsay culinary experience, yet in a rather relaxed and social dining environment.
The Rooftop
The Rooftop is a unique, casual, yet sophisticated terrace oasis that fuses the urban chic of New York, Beirut and London and takes Doha's nightlife to unparalleled new heights and sounds.
Vine Restaurant
East meets West in this bright restaurant which serves predominant international and regional cuisine.
Vintage Lounge
Savour the finest vintage beverages in town, paired with delectable food to match. Vintage is an ideal venue for intimate conversations and aficionado gatherings, the place to enjoy vintage beverages.
Oyster Bay
Oyster Bay & Bar is the hotel's tropical Caribbean-inspired pool restaurant and bar with sweeping views of the pool and Arabian Gulf.
Raw Bar
Chef Elias Gemayel, in collaboration with acclaimed celebrity Chef Gordon Ramsay bring their creative flair and inventiveness to raw cuisine, turning the finest ingredients into culinary masterpieces.
Hakkasan
Modern authenticity, encapsulating a paradox in that the traditions of the past are acknowledged, yet no fear of change. This is the spirit of Hakkasan, your fine-dining Chinese restaurant in Doha.
Discounts and SPG points are not available at Hakkasan at any time.
Sarab Lounge
Sarab Lounge is the heart and soul of The St. Regis Doha. It is known to be Doha's social focal point for light snacks, delectable coffees and the ultimate afternoon tea experience in Qatar.
Al Sultan Brahim
Known as one of Lebanon's most famed and award-winning restaurants, this venue is best known for the freshest seafood and sacred recipes of Lebanese cuisine that can be found in Doha.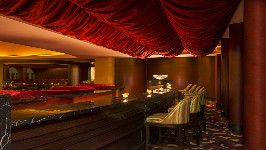 The Club at The St Regis Doha
On stage, globally renowned artists put on a lively performance in front of arched windows that look onto the Arabian Gulf, as you enjoy a buzzing, cosmopolitan atmosphere.
SPG® Members Save 10%
Enjoy the advantages of being an SPG member and savor a 10% discount on food only at any of the St. Regis Doha dining outlets. Discounts and SPG points are not available at Hakkasan at any time.
SPG Benefits cannot be used in conjunction with any other offer or promotion. Blackout periods and events may restrict access on certain dates, so check availability of the offer when making your reservation.
For more information or to reserve a table please contact us:
Phone: +974 4446 0105

Email:

doha.butler@stregis.com

WhatsApp number: +974 3387 0925